Lately there was a lot of FUD in crypto space and other "World events" which shaked market really good. We saw Cardano price dropped all the way from just above 3$ to 0.86$. Who ever invested at top, probably has bitter taste in his mouth right now. Crypto is still very young market and it can be very volatile. Some people will probably give up thinking its a one big scam. Others, who believe in this space will see every drop as a great opportunity, to add some more to their balance. Here we want to see some other metrics beside price, and we have great tool for that. While the price goes down, all other Cardano metrics are going up. I will quote Jeff Bezos here, when he observed Amazon stock price fell more than 95% during internet bubble: "…as I watched the stock fall from 113$ to 6$, I was also watching all our internal business metrics going up, therefore I was not worried…"
Jeff qoute starts at 1:26
https://www.youtube.com/watch?v=msFwJ5xpg_g
Peek into Cardano network
From beginning of 2022 we can see that all metrics on Cardano network are going up. From number of wallets to transactions per day. On the 27 Feb we had more than 3.1 million wallets and more than 33 million transactions.
Recently there was launch of number of dapps on the network such as https://ada.muesliswap.com/ and https://exchange.sundaeswap.finance/ . And now we can see that total value in DEFI is increasing rapidly.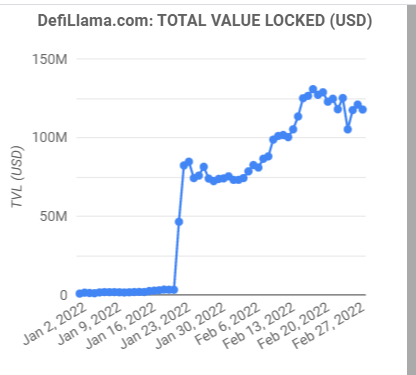 All of this data and much more you can find at: Cardano Blockchain insights
ADRIA stake pool is providing API for total volumes on exchanges. If you find this helpfull consider staking with us:
We have various token rewards such as: ADA, Sundae, World Mobile Token and Hosky.
We have great news! Starting epoch 324 our delegators will earn @wmtoken and @hoskytoken. Additional to that, every epoch we will airdrop @SundaeSwap token to random delegator 😍. #Cardano #ADA #CardanoCommunity #SundaeSwap#hoskytoken #wmt pic.twitter.com/jhjfNr2hgq

— Adria🌊 Single Stake Pool | Cardano (@AdriaStakePool) February 26, 2022
Check our stats on ADAPOOLS.ORG